Vault uses an Action Bar and All Actions Menu to display and organize available actions.
Action Bar
The Action Bar continuously learns how each user works with documents and records, and shows their four most frequently-used actions in the upper right of the document or record.

To the left of the Action Bar, the chevron icon provides quick access to any user actions or workflow actions defined for this lifecycle state.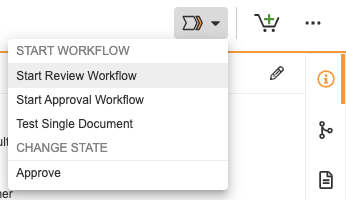 If state change actions are available, you can click the lifecycle state badge to select the next lifecycle state for your document or record.

All Actions Menu
The document All Actions menu is available on the far right of the Action Bar, via the ellipsis icon. This menu displays all actions you have available for the selected document or record, including Send as Link, Where Used, and Version History.
Available items in the All Actions menu vary by Vault configuration, lifecycle state, Create permissions, your license type, your security profile, and your role-based permissions on the document or record.
Menu items are divided into four categories: Manage, Edit, Download, and View. Each section contains a list of actions that you can perform on the selected document or record.