The Security Settings page (Admin > Settings > Security Settings) allows you to view information about the Vault. You must have a security profile that grants the Security Settings: Edit permission in order to modify this.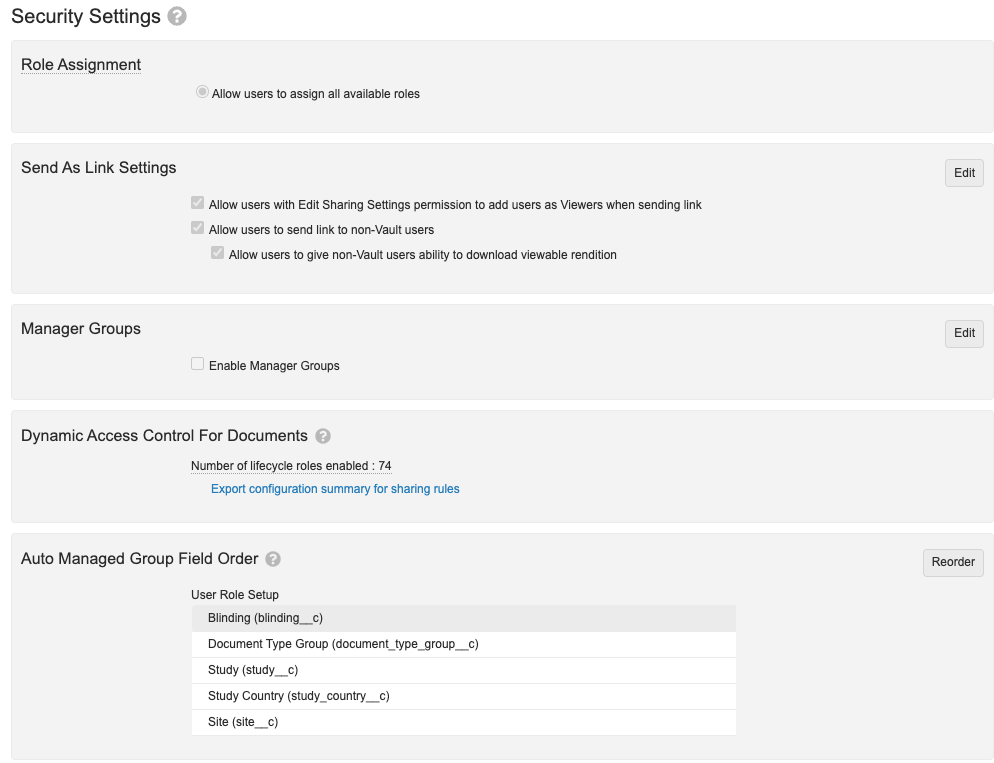 The page includes the following settings:
Administrator Access: Enable or disable "strict security mode" for Admins.
Role Assignment: Define how Vault allows users to be assigned to specific roles.
Send as Link Settings: Modify settings related to the Send as Link feature.
Enable User Role Constraints: This setting supports large or global implementations of Dynamic Access Control, specifically to delegate maintenance of User Role Setup records to local users. See Configuring User Role Constraints.
Manager Groups: Creates system-managed groups that include each user's direct manager. See Creating & Managing Groups for details. When this is enabled, you can access the following subsetting:
Include Manager Groups when selecting workflow participants: When workflow initiators begin a workflow or when users reassign a task, manager groups appear in the workflow participant selectors.
Dynamic Access Control For Documents: There are no editable settings in this section; it displays the number of lifecycle roles enabled and allows you to export a configuration summary for sharing roles.
Auto Managed Group Field Order: Allows you to control how Vault names Auto Managed groups for DAC. See About Dynamic Access Control for Documents and Configuring Matching Sharing Rules for Objects for details.